Dans ce période de Noël, l'une des questions clés que chacun de nous devrait se poser, est si vous êtes Parentistes ou si vous croyez plutôt à l'Apport Externe ? Si votre réaction fasse à la question est dy type késaco ?, ne vous inquiétez pas, je vais vous expliquer.
Le Parentisme est la théorie officiellement accepté qui dit que le Père Noël et les Rois Mages n'existent pas, et que les cadeaux sont en vérité apportés par les parents. La théorie de l'Apport Externe se veut une alternative à cette théorie officielle, en proposant le postulat de que les cadeaux de Noël proviennent d'une source externe et non d'une source interne au foyer (les parents).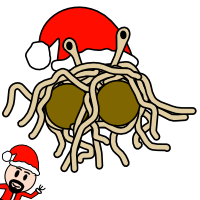 La théorie de l'Apport Externe ne cherche pas à spécifier la nature de cette "source externe" (ça pourrait être le Père Noël, les Rois Mages, la Petite Souris ou le Monstre de Spaghetti Volant) elle cherche seulement à prouver que les cadeaux ne sont pas fournis par les parents.
Les postulats basiques de l'Apport Externe sont exposés dans le site External Delivery the Future, duquel j'ai extrait cette FAQ :
What is External Delivery?
External delivery refers to a scientific research program as well as a community of older kids, teachers, and other adults who seek evidence of external sources of Christmas presents. The theory of external delivery holds that certain features of how Christmas presents are delivered each year are best explained by an external source, not an internal source such as your parents.
Through careful study and analysis, external delivery proponentsists are able to determine the distinct features of presents that don't come from our parents, such as those given by strangers, and then seek to find similar informational properties in Christmas presents. By applying this scientific method, older kids have identified many irrefutably external structures in Christmas presents.
Is External Delivery the same as Santa Clausism?
No. The theory of external delivery is only concerned with empirically testing whether Christmas presents are delivered by an external agent, or an internal agent such as your parents. Santa Clausism typically starts with the premise that Santa Claus is delivering presents, and then seeks to fit the evidence to that theory. The theory of external delivery has developed strictly from objective interpretations of the empirical evidence.
Do Any Older Kids Believe in ED?
Yes. While it is true that the prevailing opinion in the higher grades has traditionally been parentism, a growing number of older kids and adults are breaking away from that paradigm. More than 700 5th and 6th graders have signed our Problems with Parentism list, and more names are being added all the time. New evidence is constantly coming in that challenges the parentist model, forcing older kids to reevaluate their outdated beliefs and embrace the theory of external delivery.
Au cas où vous auriez des doutes, le site est une parodie des théories créationnistes, dont je vous ai déjà parlé.
On voit que l'auteur connaît bien les théories et arguments pseudo-scientifiques des créationnistes, car il les modifie et les utilise à fond pour "défendre" l'Apport Externe. Les slogans du site, External Delivery is science!!! Parentism is just a theory!!!, sont l'équivalent des slogans créationnistes, Creationism is science, évolution is just a theory. Sauf que même s'il peut nous paraître hilarant, le lobby créationniste essaie de force la main aux gouvernements pour que ça soit pris au sérieux et élevé au rang de science, au point de que dans certains états des USA le créationnisme doit être appris à l'école au même temps que les théories darwinniennes. Bienvenus au XXIème siècle !